We are hoping to run a girls' Football Group as part of our Saturday coaching programme at Roundwood Park School. The Group is open to girls of all ability levels.
Our terms are 10 weeks in length and our Summer term starts on 29/4. The Years 4 – 6 session is from 10-11am.
The dates are:
April – 29
May – 6, 13, 20, 27
June – 10, 17, 24,
July – 1, 8

We play on the grass behind the tennis courts and have a team of Coaches, all of whom are PE teachers at local schools.
For further information, please email – info@kingssoccerschool.com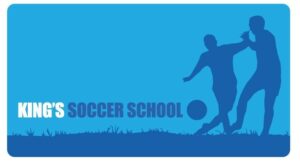 Mid – week Football Coaching for the Spring Term starts the week beginning 9th January. These sessions are in association with Harpenden Colts and are open to boys and girls of all abilities in Year 1 to Year 8 (inclusive). They run from 5.30pm–6.30pm on the artificial pitch at Roundwood Park School.
These exciting sessions run during term time (no session during half term) for 11 consecutive weeks and cost a total of £98 per child, if they are members of Harpenden Colts or on their waiting list.
Monday –  Years 1 and 2 
Tuesday – Years 3, 4 and 5 
Wednesday – Years 6 – 8
We pride ourselves on the quality of our provision and believe that much of this is down to our extremely experienced coaches that are secondary school Physical Education teachers, FA qualified, first aid trained, with enhanced CRB checks. As Director of Coaching, I previously taught at Roundwood Park Secondary School for 5 years, and I am currently Director of Physical Education and Sport at The Latymer School, Enfield. In addition, I also managed a Harpenden Colts football team for 12 years.
For further information and course letter please email info@kingssoccerschool.com  or call  07821 800024